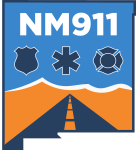 The New Mexico 911 (NM911) Program was created by Section 63-9D-1 through 63-9D-20 NMSA 1978 ("Enhanced 911 Act") to further the public interest and protect the safety, health, and welfare of the people of New Mexico by enabling the development, installation, and operation of enhanced 911 emergency reporting systems to be operated under shared state and local government management and control. The New Mexico Department of Finance and Administration (NM DFA) manage the NM911 Program.
The NM911 Program administers essential emergency reporting and dispatch services accessible by calling nine-one-one through forty-one disparately funded municipal and county-run public safety answering points (PSAPs or 911 centers) located throughout the state.
Starting January 2019, The NM911 Program contracted with the Earth Data Analysis Center (EDAC) at the University of New Mexico (UNM) and Bohannan Huston, Inc. to securely acquire geospatial data from local government entities, validate and process data into the statewide model; and make such data available for download on the PSAP Map Servers. Earth Data Analysis Center is responsible for securely acquiring GIS data from primary GeoData Providers, verify and validate data, process to convert those to statewide master dataset, generate assessment reports identifying errors or discrepancies per NM911 standards, and provide reports back to the GeoData providers. In addition, these data are updated on PSAP Map servers for emergency response. The road centerlines and address points (statewide) are available on NM RGIS Geospatial Data Clearinghouse as shapefiles for public access.