Since 1968, the Image Archive Program has been serving New Mexico and the US Southwest region as a geospatial information and distribution center. The Image Archive team provides users with data and metadata for a wide variety of geospatial products, such as aerial photography, space shuttle imagery, satellite imagery, topographic maps and digital data. Under agreement with the U.S. Geological Survey, the Clearinghouse also operates as New Mexico's Natural Science Network (formerly ESIC) and is a USGS Business Partner.
Aerial Photography
We maintain a historic aerial photography archive dating from the mid-1930's that covers New Mexico, portions of Arizona and Texas. Contributing agencies to the archive include the U.S. Geological Survey, Army Map Service, U.S. Forest Service, Soil Conservation Service, Bureau of Land Management, Agricultural Stabilization and Conservation Service, NASA and several private firms. Archive also contains film from Pacific Western Technologies and Thomas R Mann & Associates, Inc.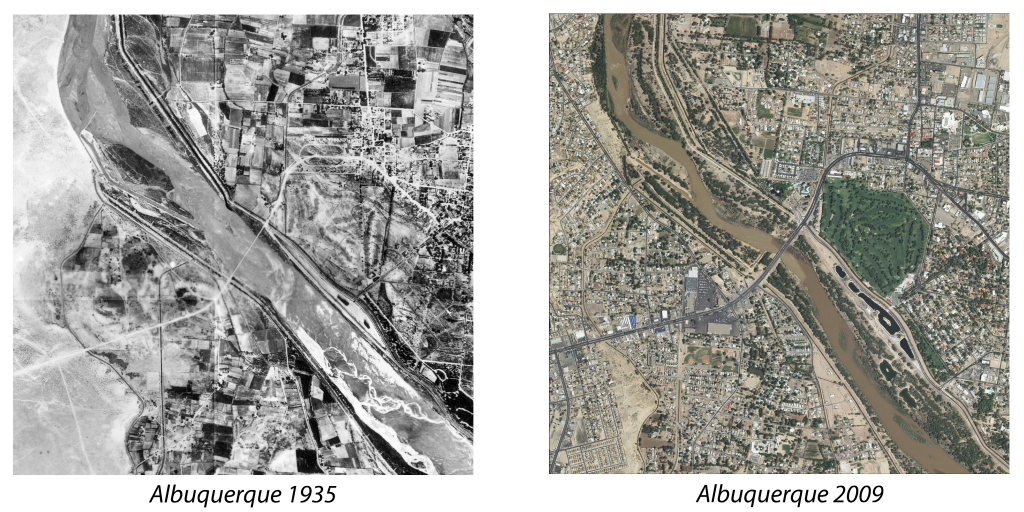 Images from the archive can be viewed onsite at EDAC only. Copies can be obtained by ordering specific frames from the original sources, and purchasing scanned photos from our collection.
Digital Data
We host a variety of geographic data both in spatial and non-spatial formats through our digital clearinghouse New Mexico Resource Geographic Information System (RGIS) program. These data are available to public at no cost.
Satellite & Space Shuttle Imagery
Photos from the Gemini, Apollo, Skylab and Space Shuttle Missions, as well as data from the Landsat, SPOT, IRS, NOAA, Russian KVR-1000 and Radarsat satellites are available through the Clearinghouse. The collection consists of, but is not limited to, handheld Hasselblad and Nikon photos, multispectral and Earth Terrain Camera photos, and second-generation 70mm, 35mm, 4×5, and 5×5 color film positives provided by NASA. Most of the astronaut photography cover areas between 57 degrees north and 57 degrees south latitudes. It is important to note that images presented on some websites may have been color enhanced and may not accurately represent the quality of the film provided by NASA.

Topographic Maps
The Clearinghouse provides access to a variety of maps including U.S. Geological Survey products such as the 1:24,000, 1:100,000, 1:250,000, 1:500,000, and 1:1,000,000 scale maps. Other maps include:
Geologic Maps
Tactical Pilot Charts (TPCs)
Operation Navigational Charts (ONCs)
Other Specialty Maps
The University of New Mexico's Map and Geographic Information Center (MAGIC) maintains an extensive set of maps for New Mexico, the United States, and the world that can be viewed by the public.
Cost & Other Information
Data are available from a variety of sources and can be found via EDAC's search services at minimal cost. Contact us via email ap_archive@edac.unm.edu for cost and to initiate orders.
Upon scanning, method of delivery may include digital file transfer via FTP, or through mail as requested. Prices for photos outside our collection are also available upon request. Please note that handling and shipping fees are added to each order.