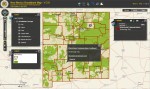 The New Mexico Broadband Program (NMBB) is part of the National Telecommunications and Information Administration (NTIA) State Broadband Initiative (SBI), which implements the joint purposes of the American Recovery and Reinvestment Act of 2009 and the Broadband Data Improvement Act. The SBI program facilitates integration of broadband and information technology into state and local economies.
EDAC, in partnership with the NM Department of Information Technology (DoIT), developed a Web map for the New Mexico Broadband Program. The NMBB Map, http://nmbbmapping.org/mapping/, is an interactive map built on ESRI's ArcGIS Server API for Flex. The map displays all wire-line and wireless broadband services available in the State of New Mexico, based on the type of technology reported in data collected from Internet Service Providers (ISPs) and other sources. Collected data are analyzed and processed according to NTIA standards, verified with the ISPs, and submitted to NTIA twice a year. NTIA incorporates the submitted broadband data into the National Broadband Map, and EDAC uses the data to update the NMBB Map.
EDAC and NM DoIT plan to improve broadband data quality through crowdsourcing in the next phase of the program. The NM Broadband Map allows consumers to identify the broadband services available in New Mexico, and policy makers to address the barriers for broadband expansion and to improve broadband adoption in under served and non-served communities. The adoption of high-speed Internet services and information technology enhances economic development, public safety, health care, educational opportunities, and the quality of life for New Mexicans.